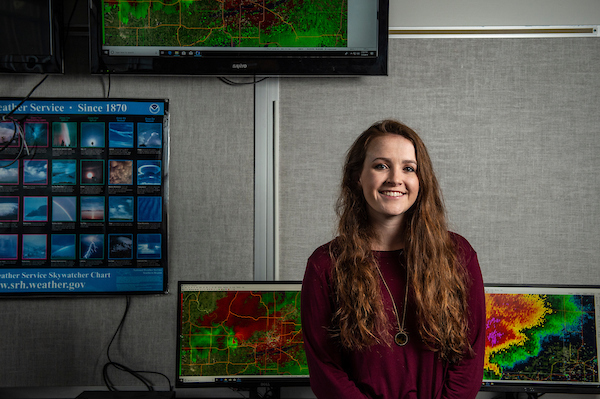 Caroline MacDonald, Geoscience graduate student
M.S. Geoscience
Like other high school students considering meteorology as a major, Caroline MacDonald quickly realized Mississippi State's meteorology programs are often listed among the best in the country. But that was not the only reason she decided to attend the land-grant university.
"When I first visited here, the faculty were what made me really like this university," MacDonald said. "I met with a professor. I didn't feel like a number, which, at some universities, I did. MSU was the first university I visited. After I left, I knew that no matter what went on at the other schools, I was coming here. It just felt like home."
Since coming to her university home from Colorado Springs, Colorado, MacDonald has pursued the science of meteorology while also examining why people do, or don't, respond to meteorological warnings. Last May, she received her undergraduate degree in geosciences, with a concentration in professional meteorology and a minor in psychology. She graduated as a Stephen D. Lee Scholar after maintaining a 4.0 grade point average throughout her undergraduate studies.
MacDonald is currently pursuing a master's degree in professional meteorology and climatology. Her research examines the ways the public perceives different color tables on weather watches and warnings.
"There has been research that shows there are certain colors people are more alert to," MacDonald said. "If something is more of a pink or a purple, people think it's worse than a red or green — things like that. I love the science of meteorology, but people need to understand what's going on with these weather situations."
After she finishes graduate school, MacDonald hopes to work for the National Weather Service, where she has spent the last three summers gaining experience as a volunteer and intern. She was exposed to potential careers in the national organization after joining the East Mississippi chapter of the National Weather Association and American Meteorological Society, MSU's student meteorological organization. The group regularly brings in professionals to talk about different career opportunities.
"Hopefully, that experience will someday lead into a full-time position at that office," MacDonald said. "I still get to forecast and do the meteorology, but they have a lot of ways that they interact with people and do things for the public. That's something that I would really like to get into and specialize in."
In 2017, the American Meteorological Society recognized MacDonald with the AMS/Orville Family Endowed Scholarship, which is awarded to students who have demonstrated potential for accomplishment in atmospheric sciences and related fields. As an undergrad, she was able to gain research experience with MSU faculty members, which she said has been beneficial in her thesis work.
"I've been really grateful to be here, and I was glad I was able to stay on for grad school," MacDonald said. "I knew there were professors here doing the research I wanted to do, and I already loved it here, so going from undergrad to grad school was a very smooth transition."
MSU is Mississippi's leading university, available online at www.msstate.edu.
MSU graduate studies information is available online at www.grad.msstate.edu.
Story by: James Carskadon
Photo by: Logan Kirkland