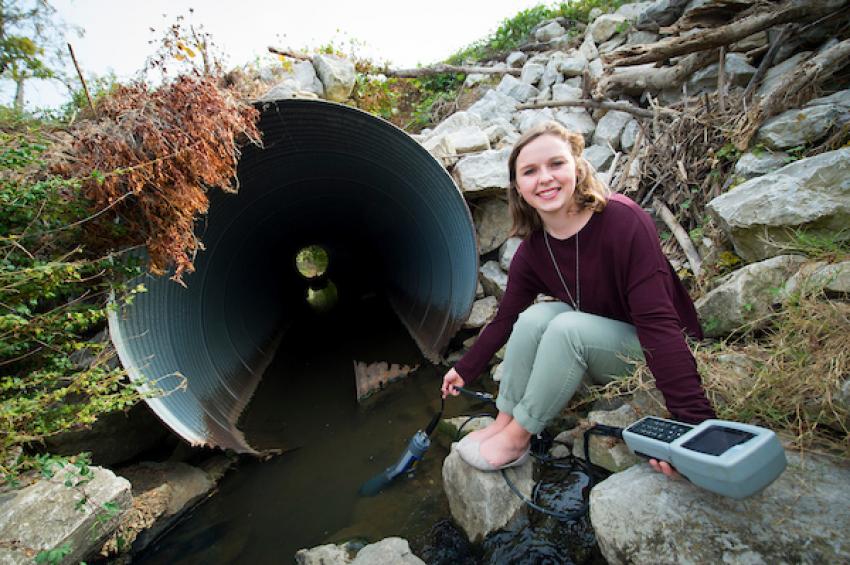 First-year graduate student in Civil Engineering, Laura Wilson
Ph.D. Civil Engineering
Laura Wilson, a first-year graduate student in civil engineering, saw an opportunity when she came to Mississippi State University as a freshman.
The Diamondhead native wanted to combine her passion for environmental studies with her skills in math and physics. She also knew she wanted to use her education to make an impact abroad.
MSU's chapter of Engineers Without Borders-USA was just forming when Wilson arrived on campus, and she joined to become an integral part of a team that helped bring clean water sources to approximately 10,000 people in rural Zambia.
"Seeing the kinds of things I can do abroad with a degree in civil engineering really helped me stick with it," Wilson said. "That's been a huge part of everything I've done since I got here."
After receiving her bachelor's degree in May, Wilson opted to pursue graduate school at MSU rather than taking a job. As a graduate student, she is working with fellow Bagley College of Engineering alumnus and Assistant Professor of Civil and Environmental Engineering John J. Ramirez-Avila to research watershed issues in Colombia. Her doctoral research will focus on the social and economic impacts of different watershed changes.
Wilson hopes to work in sustainable development for under-developed communities after she leaves MSU. She said the Engineers Without Borders' effort in Zambia has made her appreciate the work that goes into bringing clean water to a community. She also has enjoyed seeing the organization grow and complete a major international project during her time on campus.
"It's exciting, not just to see the project grow and get completed, but also to see the club growing and gaining more publicity and members," Wilson said. "That's been really cool to see and to be involved with it at every level."
In addition to Engineers Without Borders, Wilson has helped revitalize MSU's Soil and Water Conservation Society. She also has been involved with Terpsichore MSU Dance Theater Company. Wilson credits MSU Engineers Without Borders faculty adviser Dennis Truax and Ramirez with helping shape her education at MSU.