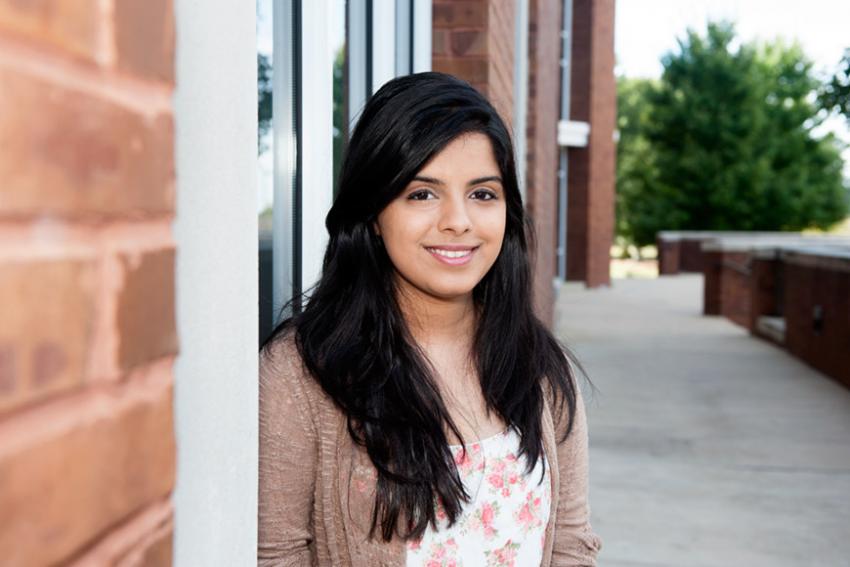 By choosing Mississippi State, Gadre said she has embarked on a challenging but rewarding journey.
MBA
For Priyanka Gadre, Mississippi State is providing what she considers the best cultural experience possible.
In the Fall 2015, Gadre began work on a business administration master's degree with a College of Business assistantship after graduating cum laude with a bachelor's in psychology from the College of Arts and Sciences.
She first came to MSU in 2011 from Pune, a historic city of some three million that forms one of India's 10 largest metropolitan areas. The distance between home and Starkville: 14,000 miles.
As the only member of her family ever to visit the United States, she said, "I did not know a lot about Mississippi State before coming here. It was just a decision that I made, and I am glad that I made it."
With the support of her parents, Gadre said she decided to leave her home country to avoid the rigid conformity of its higher education system. There also was another reason.
"To be honest, I just wanted to go to a place where it didn't snow because I catch colds really quickly," she admitted, with a grin.
By choosing Mississippi State, Gadre said she has embarked on a challenging but rewarding journey.
In working to immerse herself in both American and Southern cultures, she said she has found a welcoming response from members of the campus and local communities.
"I never feel lonely; there is always someone to talk to," she said. "(Whether) in the elevator or just walking around, everyone goes out of their way to help you and make you feel at home."
As an MSU undergraduate, the former President's List Scholar held several campus jobs that helped with the adjustment to the new and different environment. She also was active in the campus Indian Student Association and served as its public relations officer during the 2012-2013 school year.
As she begins a fifth year in the United States, Gadre said she plans to begin traveling around the country as time and her campus studies permit.
"My friends used to ask me 'Why Mississippi when you could have gone somewhere like New York?'" she recalled.
Gadre has no doubts the decision to attend MSU "actually has made me a better person."
She added: "I've gotten to explore myself and who I am, and I just love that about Mississippi State."