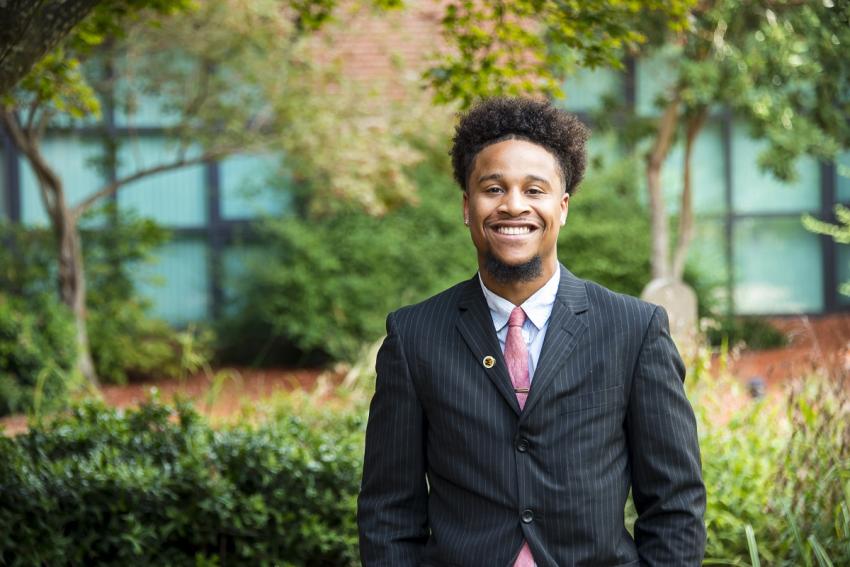 M.S. graduate student in Wildlife, Fisheries & Aquaculture, Trevon Strange
M.S. Wildlife, Fisheries & Aquaculture
We attend school in order to prepare ourselves for the future. But what if our education doesn't prepare us to succeed as professionals? Graduate student Trevon Strange and his advisor, Dr. Jessica Tegt, wildlife, fisheries and aquaculture assistant extension professor, are examining this question in the hopes that they will be able to address the gap between the education wildlife professionals receive, and the skills they actually need throughout their careers.
"You might have a certain skill set from a university, but it may not apply to what wildlife professionals actually need in order to thrive throughout their careers," Strange explained. "That's why I'm analyzing the gap between university training and professional skill sets. The goal is to maximize their ability to work in the field."
He works with the Wildlife Services National Training Academy, using a gap analysis, or a technique that compares two groups in order to determine competency and performance level. He will list the attributes of current graduates, list the factors that need to change in order to maximize their abilities in the workforce, and highlight the gaps that exist in order to help wildlife programs address the needs of their students.
"This will better equip universities with an understanding of the skills needed in the field for future modifications to undergraduate programs, and it will allow the National Training Academy staff to design programs that best suit the needs of wildlife professionals," Tegt explained.
Coming from a small, liberal arts university for his undergraduate education, Strange understands what it is like to succeed without a wildlife emphasis.
"I studied pre-veterinary medicine at Tuskegee University. My undergraduate program didn't have a very strong wildlife program, so the university showed vet students what other career options there were—aside from being a traditional vet—by sending them out on internships," Strange said.
That was how he ended up at Mississippi State University, where he worked with Dr. Fred Cunningham through the National Wildlife Research Center, assisting with feral swine toxicant rice trials and cormorant research in Wisconsin.
The next summer he returned, this time to analyze feral swine stomach contents with Tegt, as part of a team informally dubbed "Team Guts and Glory."
"The feral swine content analysis was my favorite—it was really interactive, and I was able to experience a different aspect of the field from traditional veterinary medicine," Strange explained.
Eventually Strange would like to merge his passions for wildlife and veterinary medicine by becoming a wildlife vet—a goal sparked by outdoor activities with his grandfather.
"I fell into this field because of my grandfather. He grew up hunting in upstate New York with his friends. When I was born, he brought me with him to hunt and fish and it grew on me. I fell in love with the field, and knew I wanted to study wildlife," Strange said.
After her experience with Strange as an intern, Tegt decided to bring him on as a master's student.
"The first thing that I noticed about Trevon is that he asks a lot of questions—and natural inquiry is essential to pursuing graduate education. When I met Trevon, he was already putting himself in a good position for networking with professionals in different areas of wildlife research and expressed an unwavering willingness to do whatever it takes to pursue his education," Tegt said in praise of her graduate student.
She also feels that his unique combination of fieldwork, veterinary medicine, and human dimensions will set him apart from the crowd.
"When Trevon graduates, his experience and knowledge will set him apart from other professionals in his field. He will have the scientific grounding for wildlife management, but he will also have the rarer background in human dimensions of wildlife. This will give him great insight into the ways humans interact with our natural resources and the ability to make recommendations for best management practices," Tegt stated.
Not only will Strange's education set him up to succeed: it will also benefit wildlife students around the nation by helping them get the education they need as well.
Article and photo submitted by: Karen Brasher, Marketing Coordinator, Agriculture and Natural Resources Marketing.
MSU is Mississippi's leading university, available online at www.msstate.edu.
MSU graduate studies information is available online at www.grad.msstate.edu.